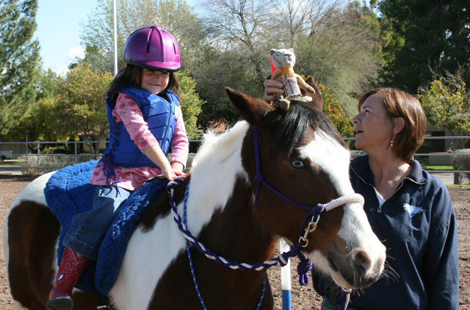 Charlotte is a 16-year-old Westphalian mare with a successful history in the hunter competition ring. Her show name is Dina Bella, which is German just like her roots. She was imported to the U.S. in 2006. She was purchased by the Stephens Family in 2008 when she was eight years old. With her bombproof personality, Charlotte was a safety horse giving her rider confidence from the little jumps all the way up to the bigger ones, with multiple championships on her record.
As talented and successful as she was in the show ring, and after a few years, competition just wasn't for her anymore. To spare her any injuries and also to spare her happiness and keep her quiet personality, the Stephens Family retired her and reached out to Kelley about using her for therapy. Charlotte quickly adapted to the lifestyle and loved not having to train or do competition work anymore. As much as they loved having Charlotte at competitions, her laid back, lazy personality is much more suited for her work at Hoofbeats With Heart than it was for the show ring.
Charlotte has now hit her stride as an amazing therapy horse. The children adore her and therapist love her even temperament and patience. Charlotte's favorite activities are mounted therapy, walks through the sensory trail and getting hand painted by her adoring students. She also loves treats in any shape or form.